Looking feminine with short hair isn't easy. If you ask yourself how to pair makeup with a hairstyle or what to wear in combination with a short hairstyle or what earrings to wear to match your hair color, I am pretty sure my tips can help you.
That's why I am gonna break down how to express your feminine needs to your fullest ability despite your short hair in this article.
I'm going to show you examples of exactly what I mean and some role models with short hair that we should be looking up to if we want to appear as feminine as possible. Keep in mind that you want to express your personality in the best possible way. See what kind of personality is often linked to women with short hair.
[toc]
Makeup for short hair
When it comes to having short hair, the only thing you have to work with is your face. Use as much makeup as you can to accentuate your features. Particularly, the features you admire most about yourself. 
Some women love their eyes, so they wear a lot of makeup that really emphasizes their eye color or their eye shape. Other women make up their eyebrows or lips. 
Here are my top 10 makeup tips for short hair:
Short hair gives your face a clear look, especially on the cheeks, forehead, and eyes. So, makeup should emphasize your face.
Cleanse your face with a tonic before applying makeup. The tonic will allow the makeup on your face to last longer than usual.
Apply powder on the face and neck. Apply a little more powder on the forehead, cheekbones, chin, and nose. The powder should be a shade lighter than your natural complexion. It is best to use liquid powder because it is the easiest to spread.
When you have short hair, you can play with different colors around your eyes. Depending on the occasion, choose an eyeshadow in a suitable color.
For a daytime look, choose eyeshadows that aren't with a little shine. The "nude" shade is great for the day. For a night out, choose shimmery and strong colors, for example.
Pluck and shape your eyebrows for a more beautiful look to your eyes.
Be careful not to smudge your eyeshadow. Use a highlighter below the eyebrow line. This will visually open your eyes.
One simple makeup tip for women with short hair is to use an eye pencil or eyeliner. Apply the pencil to the upper and lower lids.
Use a natural shade of blush with a little shine to accentuate the cheekbones.
Finish your makeup with a simple lip gloss. "Nude" shine looks elegant and natural.
I have researched what other women are saying on how to look feminine with short hair and there are some quotes from reddit:
I have short hair, and I find myself wanting to accentuate my eyes a little more on the makeup side of fashion. Read on reddit

valentine_girl214
I have had a pixie cut for 5 years…I only ever wear skirts and dresses but are ways to look sweet and feminine with jeans or shorts too. Accessories (headbands and statement earrings especially), lipstick, and great shoes are your friends. If you aren't comfortable living in dresses and skirts, try a lace top with jeans and a leather jacket or a blazer. Look for materials, textiles, and details that project an elegant feel…Lace, Peter Pan collars, ruffles, scalloped edging, beading, embroidery…things like that. Read on reddit

HodorUsedHodor
Earrings for Shorthair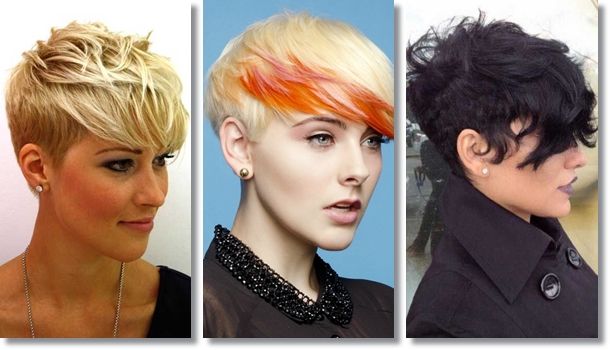 Due to the short hairstyle, your ears are always exposed to the view, which means that the earrings will be even more exposed to the view. This is also one of the reasons why earrings must be carefully selected. 
Another reason is the style of the hairstyle. Keep in mind that they must not be too aggressive because they can distract all the attention negatively.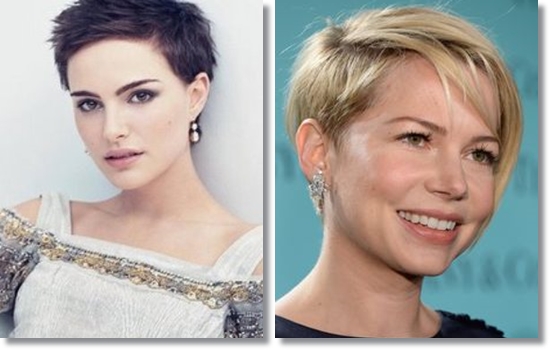 Whether it's bob or a pixie, you already know that this type of hairstyle is in fashion this year. If you want to make a full hit, choose earrings that will be a little longer concerning the length of your hair. 
The key is in contrast. If your hair is extremely short, you should choose earrings concerning the occasion you are wearing them.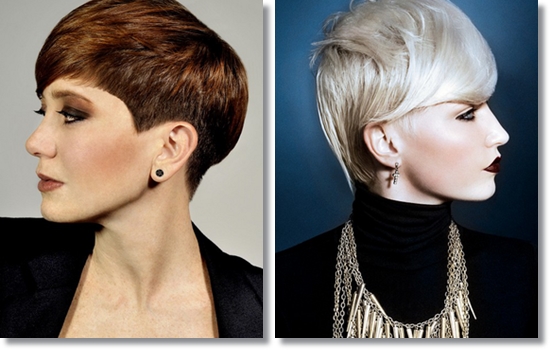 In other words, if it is a daily combination, you can opt for rings, medium-sized ones, or earrings in the shape of pearls. In any case, less conspicuous. On the other hand, it is an evening occasion or a festive event, chooses bigger, brighter ones, which are more striking.
If you have bangs, without a doubt, teardrop-shaped earrings will suit you best. They are modern, elegant, and easy to combine. Remember, the details are exactly what makes the look perfect.
Look up to celebrities, such as Emilia Clarke, who masterfully matched large, shiny star-shaped earrings with gathered hair, with, of course, a wide smile, which is also one of the most important accessories.
Earrings color for short hair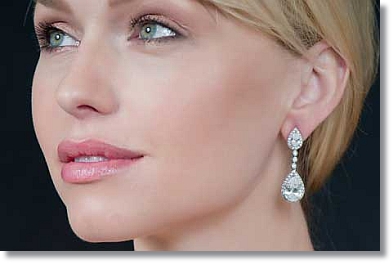 When you choose the color of the earrings and the clothes, you can also match the color of the hair or the color of the eyes. Of course, the shade should not be identical, but the colors must complement each other.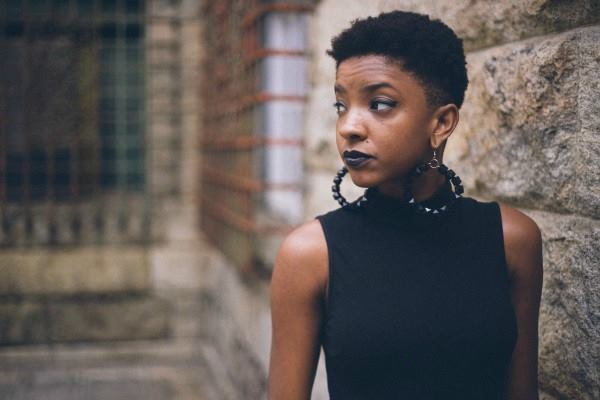 For example, imagine a red-haired girl with green eyes, wearing emerald green earrings.
Blondes will prefer transparent stones or delicate stones, such as quartz, diamonds, moonstone.
For brunettes, ruby, opal, amethyst, sapphires will also go well with emerald earrings…
How To Dress Feminine With Short Hair?
If you're without ideas on what to wear in combination with your short hair, here you are some ideas and tips:
1. Black and Sleeveless Pieces
These are one of the hottest things included in what to wear with short hair. Wear black as much as possible. If you've seen In Time starring Amanda Seyfried, get inspired by her chic LBD looks. 
It doesn't matter if your hair is pixie cut or whatever bob it is. Always strive for class and comfort. A little black dress can always make you feel at ease and safe from the fashion police.
2. Open shoulder and Strapless Numbers
Sweetheart, tube or strapless, and open shoulder style is best worn in a dress and tops. See how Michelle Williams radiates with her face and pixie hairstyle. Wearing strapless, let the outfit flaunt your short hair, neck, and focus on the face. 
Choose dresses that are bold, striking, and elegant. Bright, block, neutral, dull, and pastel colors- all of them. They can make you look even better with that haircut.
3. Well-defined Collars
When having short hair, the back of your neck or the neck itself isn't much covered. When you want to cover up, collars of all kinds, except the tiny ones, are very flattering for short locks. 
The looks to don are many, but most popular everywhere includes Lil Miss Sunshine Style in candy, coral, mint, nude, and summer colors. Wednesday Adam's look is also very admirable in short hair.
4. Bib/Collar or Statement Necklaces
Nothing can be more stylish than statement collar necklaces. They can be worn over and over on any outfit, may it be your sleeveless top or strapless frock.
5. Layered outfit
Women with short hair should wear this style because its fluffy layers and hems give the outfit volume, making the hair stand out on top. It's alright to accessorize in doubles, triples, or even arm party bracelets. Avoid styles that are too volume-y for they might make you look pregnant.
6. Open and Cut-out Backs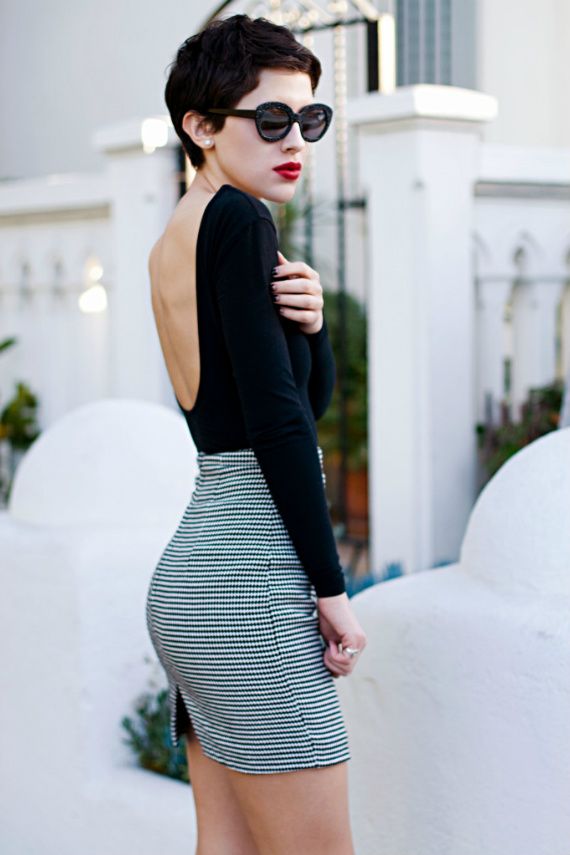 Cutaways make short hair even sexier. Designers usually get creative and experimental with back styles that come up with unique and sexy cuts for the back of an outfit.
Keep hair short if you want to continue wearing them. Longer hair tends to hide the beauty of the cutaway back. Wear them the way you would wear a tank or strapless dress.
Conclusion
What I have learned by the time is that everything related to a complete look is about a perfect match. Try to combine some of my tips and see what works best for you. Don't forget to consider some well-known factors, such as neck length, eye color, face shape. Also, your best look is the one that you are feeling best in. I hope my writing helped you with your problem. Keep on rocking. You are the best!
Before you go, I hope you could take a look at these 6 short hairstyles I handpicked for you.